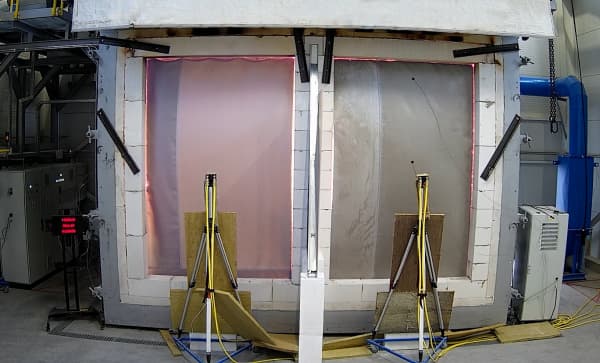 FIRE TESTING LABORATORY AVAPS
In the last two years, the company has made the largest investment to date in the modernization of production processes and the development of innovative fire protection solutions. The result is a fire testing laboratory for the implementation of indicative fire tests.
One of AVAPS's absolute priorities is the constant development of new solutions and the innovation of preventive protection measures, such as fire shutters. Since 2018, the AVAPS Fire Testing Laboratory has been offering indicative fire resistance tests in a vertical test furnace measuring 5 x 3.5 m with the help of modern technological equipment.
Changing and evolving product, testing and classification standards, high utilization, long deadlines, and high costs for each individual fire test in accredited testing laboratories were the main reasons why AVAPS decided to invest in building its own testing facility. This significantly simplifies the development process - the dynamics of development of new and innovation of existing products have increased, which is conditioned by the frequent implementation of fire resistance tests. It aims, among other things, to cooperate with universities on research projects. Currently, the laboratory has submitted an application for accreditation, on the basis of which the laboratory will be able to perform accredited tests and issue a test report.
The AVAPS fire testing laboratory offers indicative testing of fire resistance with a detailed record of the course of the fire test to all manufacturers and suppliers of construction products with fire resistance.
The test equipment is used for testing the fire resistance of vertical building structures built into test non-load-bearing frames. The heating system consists of eight high-speed gas burners with a total output of 3.6 MW. In the case of outage electricity, a backup generator is connected to the furnace, which serves for a smooth continuation of the test.
AVAPS FIRE TESTING LABORATORY INVITES ALL INTERESTED PARTIES TO THE INSPECTION AND CONSULTATION!
More information at: https://en.pzl.avaps.cz/laboratory

CONTACT:
Ing. Tomáš Zimmer
Deputy Head of the AVAPS Fire Testing Laboratory
+420 777 911 561
PZL@AVAPS.CZ