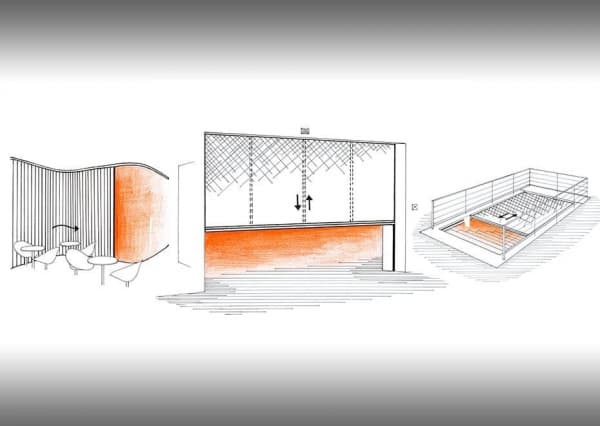 Classification of roller fire shutters
Roller shutters can be classified according to various criteria.
According to the "direction of movement":
vertically sliding - moving only in the vertical plane,
laterally sliding - moving even in curves (up to a right angle) with the possibility of multiple changes in the direction of movement,
horizontally sliding - moving horizontally, used to separate escalators, moving walkways, or solid stairs between floors.

According to the type of material:
textile - warp are stainless steel wires filled with glass fibers with a surface coating of a mixture of polyurethane with aluminum powder (gray color) or intumescent material (black color),
steel - with single or double lamella. In the case of a double lamella, the inner space is filled with mineral insulation,
plastic - molding made of non-flammable plastic and inside is a wooden core impregnated with a flame retardant.
Roller shutters are advantageous for minimal space requirements because they are normally rolled up in a housing that is positioned so as not to interfere with normal operation (usually above the opening). The closure thus does not require any larger space on the sides of the opening, such as for sliding doors and gates. There is no built-in rail in the floor of the rooms, which would in any way disturb the appearance of the interior. Due to their low maintenance, the side guide rails can also be very tastefully integrated so that they do not create a disturbing impression. A typical example of the use of roller shutters is the separation of escape routes, the closing of openings through which a continuous production line or conveyor passes, and the division of large halls due to their division into fire sections.
All types of fire shutters can be controlled both manually and automatically - with a signal from the EPS control panel or a local sensor. For some types of these shutters, the advantage is the possibility of mechanical actuation by means of a fuse without the need to supply electricity. The fuse at 72 °C unlocks the shutter and, by its own weight, by gravity, slides at a controlled speed (approx. 10 cm / s) to the closed position.
In the case of horizontally movable roller shutters, movement is ensured by an electric motor, which is also connected to a spare source (backup generator, accumulator).
Each shutter consists of three basic parts:
the shutter made of special filling (eg steel slats, textiles, wood), which moves in the side guide rails,
a cover with a shaft on which the blind is fixed and wound,
drive unit with control panel.
Due to the requirements for higher fire resistance (up to EW 90 or EI 90) according to ČSN 730802 and 730804, it is necessary to supply cooling equipment (sprinkling) to the roller shutter closures. The water film over the entire surface of the shutter must be secured by sprinkling for the entire period of the required fire resistance.