Strategy of family company AVAPS
AVAPS s.r.o. has the honour of sharing its strategic plan with you - our business partners,
investors, co-workers and colleagues. The newly created long-term strategy of our
business consists primarily of corporate mission, realistic vision and key values.

Mission
Fire safety of buildings is our priority. Reliable roller fire protection systems will be delivered to you by our stable, professional and specialized company with a long family tradition.
Vision
In the field of roller fire protection systems, we intend to maintain a leading position in the Czech market; our ambition is to be number one on European markets by 2025.
Values
Responsibility
We realize that our business conduct must be in line with the Corporate Code of Conduct. Our products and services serve businesses and people to ensure the safety and protection of health and property. High quality work is our clear priority. We are professionals in our activities. We pay attention to the observance of the rights, laws, decrees, provisions and norms connected not only with the subject of our company's activity.
Investing into the future
For the dynamic development of our family business and ensuring our long-term business success, we invest in the development, modernization of production facilities and production technologies. We also participate in innovations in the field of fire safety of buildings to offer new solutions to our customers, or more precisely end users. An important part of our success is also ensuring the attractiveness of the workload to our employees, which by supporting further education enables their professional growth and development.
Openness and Trust
With the surroundings of our business, we communicate quickly, responsibly and openly about important decisions regarding our family business. Our communication style forms the basis for mutual trust-based cooperation.
Reliability and loyalty
We consider promises to be commitments, therefore we keep our promises - we are a reliable partner for our customers. We appreciate the commitment of our employees as well as the loyalty of our customers and suppliers to our company. We believe that the established corporate culture helps to improve our internal communication and to create a positive image of our society.
Codex
The Corporate Code of Conduct contains 10 recommendations for our employees to identify with during their day‑to‑day work:
1. Performing in accordance with the company's good reputation.
True and complete accounting in accordance with the law
---
2. Fair work conditions, including health and safety at work
---
3. Prohibition of discrimination and bullying
---
4. Safety and environmental responsibility
---
5. Protection of the company's assets, property and equipment
Protecting company assets and business secrets
Intellectual property protection
Economical handling of company's resources
6. Handling of confidential information and protection of personal data
Prohibiting the use of internal information
---
7. Social Responsibility
---
8. Preventing corruption and granting unjustified benefits
---
9. Fair competition
---
10. Preventing conflicts of interest – private activities
Family company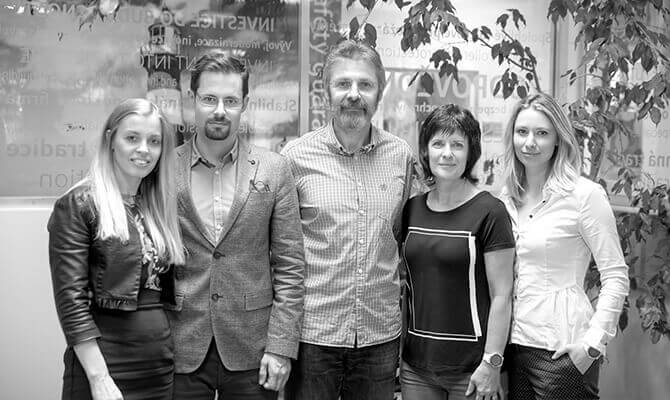 Ever since the company was founded in the late 1990s, the founder has been accompanied by the idea of transforming the business into a meaningful mission that would also carry a family legacy. Fixed values and inspiring visions are an integral part of this stable and constantly evolving corporation.
Pavel Novotný founded the company with the support of his father and 22 years later the management has been handed over to his son, Filip Novotný. Other family members - wife, daughter, sister, and daughter-in-law - are also active and happily involved in the company.
By connecting the family legacy and the entire corporate team, we succeed in building a healthy organization that makes the world safer.
Basic information about AVAPS
Address:
AVAPS s.r.o., U Obalovny 488, 250 67 Klecany
Registration in the Trade Register:
since 5. 3. 1998 registered in the Trade Register held in Prague, section C part 58133
| | |
| --- | --- |
| ID: | 25650939 |
| VAT: | CZ25650939 |
Registered capital:
500.000,- CZK
The subject of activity:
Provision of technical services for the protection of property and persons
Technical and organizational activities in the field of fire protection
Project activity in the construction
Execution of constructions, their changes and removal
Production, sales and services not stated in attachments 1 to 3 of trade act
Statutory organisation:
| | |
| --- | --- |
| CEO: | Ing. Pavel Novotný |
| CEO: | Ing. arch. Filip Novotný |
| CEO: | Mgr. Jaroslava Novotná |
Bank connection:
| | |
| --- | --- |
| CZK: | 196002779/0600 |
| IBAN: | CZ5906000000000196002779 |
| BIC: | AGBACZPP |
| EUR: | 196839448/0600 |
| IBAN: | CZ3506000000000196839448 |
| BIC: | AGBACZPP |
Sales and Realization Department:
AVAPS s.r.o.
U Obalovny 488
250 67 Klecany
| | |
| --- | --- |
| Phone: | +420 777 911 770 |
| E-mail: | obchod@avaps.cz |
| Web: | www.avaps.cz |
Organization chart
CEO
Economic department
Accounting department
Personnel department
Sales department
Domestic sales
Foreign sales
After-sales
Marketing
Technical department
Design department
Development department
Production department
Warehouse
Metal production
Paint shop
Textile production
Expedition
Installation-Service department
Order management
Documentation
Installation teams
Dispatching
Service teams
Grants




OP PIK - Automation of avaps processes
---
OP PIK - Potential
---
OP PIK - Innovation
---
OP PIK - Application
---
OP PIK - Application IoT
---
Participation in project support for vocational training of employees
---
Innovation of the workplace organization using digital enterprise tools and lean production methods
More information