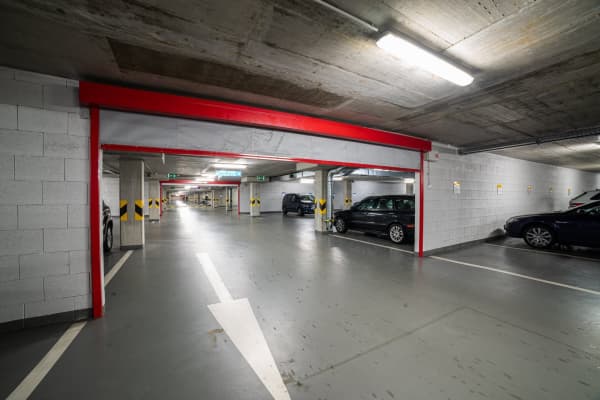 Textile roller fire shutters
Roller fire shutters are advantageous for minimal space requirements because they are normally rolled up in a housing that is positioned so as not to interfere with normal operation (usually above the opening). The closure thus does not require any larger space on the sides of the opening, such as for sliding doors and gates. There is no built-in rail in the floor of the rooms, which would in any way disturb the appearance of the interior. Due to their low maintenance, the side guide rails can also be very tastefully integrated so that they do not create a disturbing impression.
The advantages of textile roller fire shutters are:
Variable blind anchoring options.
Low weight (shutter 3 x 3 m approx. 140 kg, shutter 6 x 6 m approx. 270 kg).
Low power consumption (motor power consumption 150-450 W).
All visible steel parts can be painted in RAL.
Textile roller fireshutters are used as vertically or horizontally sliding. The shutter is made of a special fire-resistant fabric, which is interwoven with steel wires to increase mechanical resistance. The fabric withstands temperatures over 1000 °C and is reinforced with stainless wires with a surface coating and possibly with an aluminum reflective layer (foil) to increase fire resistance.
Textile roller shutter Horizontal roller fire shutter
The shutter is driven by a motor and is triggered automatically - by a signal from the EPS or a signal from any detection device (eg smoke or temperature sensor), or by a button via the operator.
The standard size is up to 20 x 6 m - from 6 m wide, the shaft that winds the fabric is supported at certain distances by support rollers for easier lowering of the blind.
Textile roller fire shutters show fire resistance EW 15 DP1 to EW 180 DP1 or EI 15 DP1 to EI 180 DP1 when sprinkled with water.
Due to the requirements for higher fire resistance, it is necessary to supply a cooling device (sprinkling) to the roller shutters. Water spray must be provided by sprinkling over the entire surface of the blind and for the entire duration of the required fire resistance. The cooling device can be activated:
by means of the EPS signal at the same time as the lowering of the shutter (the impulse opens the solenoid valve on the water supply pipe and the surface of the shutter is sprinkled by means of the drencher corner heads)
automatically by means of sprinkler heads, which open at a certain temperature, and subsequently the surface of the shutter is sprinkled.
The operator of fire shutters must be trained in their functional operation and operational use. In general, roller fire shutters are installed only for fire protection of the building, ie they serve only in case of fire.